Katzhagen - Start of Operations
Carcass
Laying the tracks, which had been fitted with rail clamps allowing for screwed connections, begins two weeks after the construction's start. Meanwhile the hot-galvanized girder for the bridge of 2m length over the pond's narrowest spot had been delivered by the locksmith's shop, too. The foundations for the bridge bearings are shuttered and casted.

On my last holiday and contrary to all speculations during the last weeks the first train rides along the tracks of the layout built from scratch. Without jolting, without swinging - OH WELL ! THIS piece of work really payed.
Done ?
At best partially. The control system still has to be build and put into operation. The board geek is late and the HTML based software for the PDA is rudimentary, at best. At times I'm asking myself whether all this is breaking a butterfly on the wheel.
Open ends are dealt with step by step. The boards arrive and I can equip them during another week of vacations. The graphical user interface for the PDA is created as time allows.
In mid-September it finally occurs: First performance of

Figaro's Marriage
The IP65-boxes (protection class for outdoor installations) are prepared for the controller boards' installation along the track and the wiring of the all the components like power supply, data lines, turnouts and illumination etc. begins.
Two e-technicians play cable-Figaro for three days and marry the components. After 60 hours of work power is supplied to the setup - and it runs straightaway ! Everything, without exception. This resulted in an indescribable delight which called for a reasonable amount of beer to drink to that.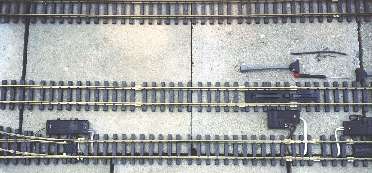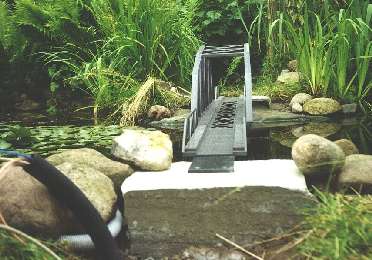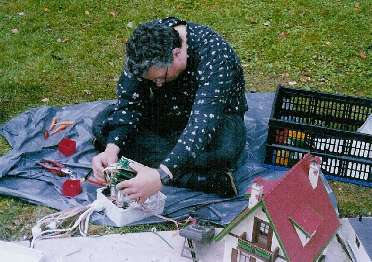 Short Description
The Layout
was integrated into the garden without the need to occupy a seperated area. Because of ample space being available, a course of 120m length could be realized with long straight sections, generous curves, "Katzhagen" station with a length of 15m, four tracks and a small engine facility as well as a goods station of 10m length with two tracks. The tracks' course with a max. extent of approx. 40x30m was kept in manageable limits and turned out to be ideal for operating and watching long trains in an apparently natural but designed environment. Both farsightedness and circumspection of the best wife of all made it possible to build a course which perfectly accomodates to the terrain. One is tempted to assume that it never looked different before.

Between pond and terrace
more...